Would you like to explore Brussels with your group? No problem!
You can find details of our Bruksel services here: tours on foot, by bike, by bus or by public transport.
Are you looking for a tour based on a specific theme or at a specific location? We'll be happy to devise a tailor-made tour for you!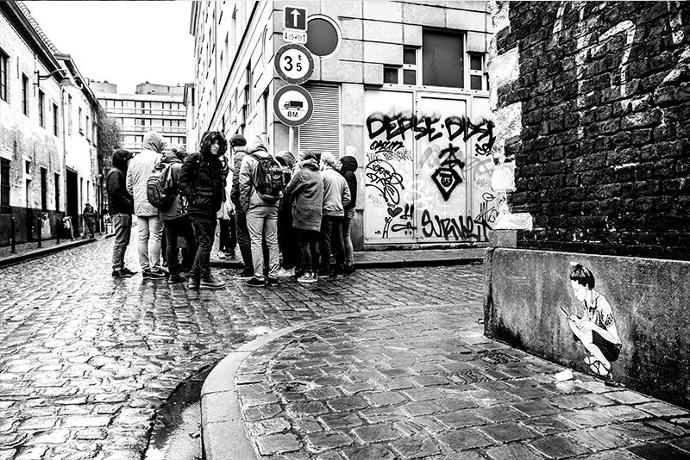 Our walks take you to different Brussels districts, or explore a topical urban theme. One guide can take 20 to 25 participants. Each walk takes 3 to 3.5 hours (with a stop for a drink) or 2.5 hours (without stopping for a drink).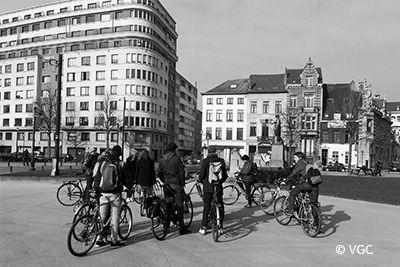 Join the growing group of cyclists in Brussels! Travelling by bike you get a broad overview of the capital. One guide can take 18 cyclists. A bike tour ideally lasts 3.5 hours, including a stop for a drink.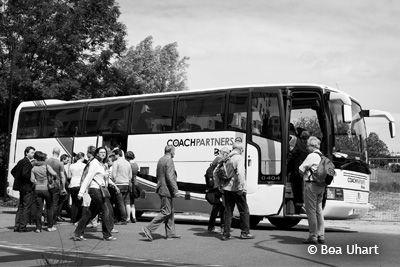 A bus tour is suitable for a more general overview of the city or for exploring the suburbs. You can use your own bus (maximum length 12 metres), or we can reserve a bus for your group.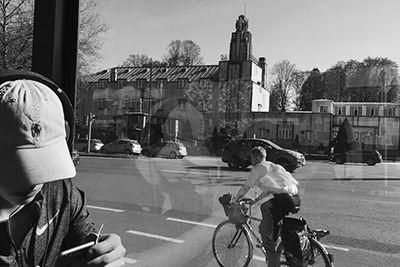 Brussels public transport will take you everywhere! We'll show you the most beautiful routes for exploring Brussels by bus and tram.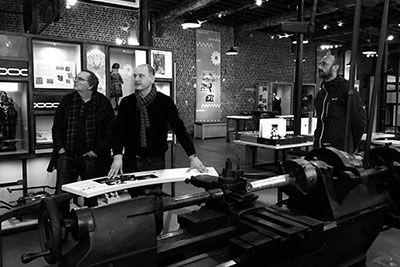 A visit to a building or museum can complement exploring a district perfectly. Discover our combination tips here.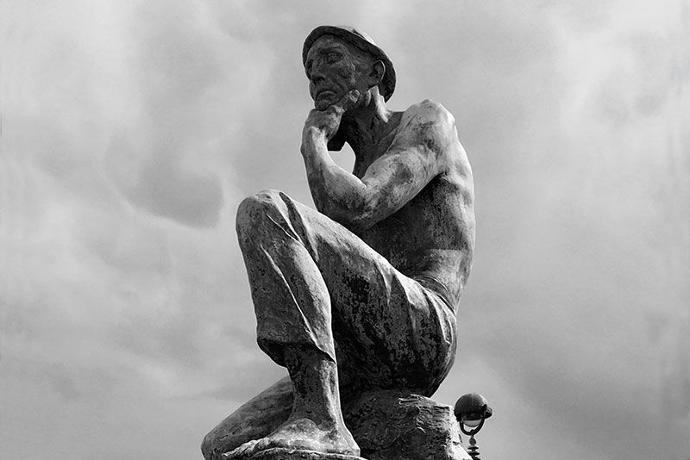 outside Brussels
Our guides also offer a Bruksel view of other cities. Contact us if you're interested in exploring Vilvoorde, Aalst, Ostend, Louvain-la-Neuve, Charleroi (photo), Namur, Mons, Liège or Lille, for example.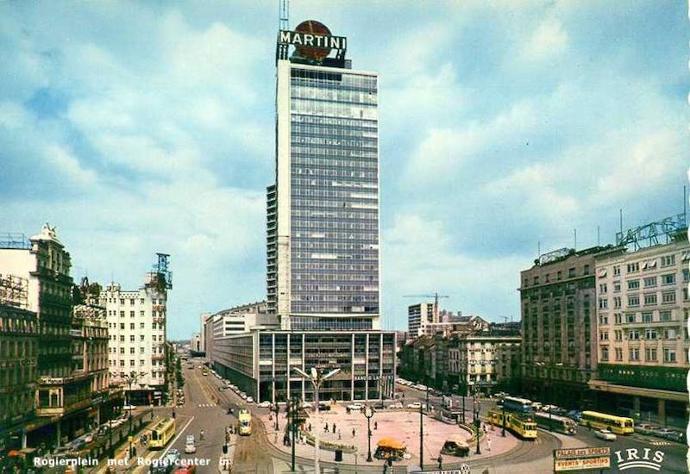 Do-it-yourself walks
With the do-it-yourself walks from Muntpunt and Bruksel, you can explore Brussels on your own. Most are only available in Dutch, but a few have also been translated into English: walks in Cureghem, the Quartier Nord and the Leopold Quarter. They are illustrated with photos from the Brukselbeeldenbank image bank.

Download the Cureghem walk
Download the Quartier Nord walk

Brukselbinnenstebuiten celebrated its 50th anniversary in 2021. Over half a century, our guides have collected thousands of images of Brussels: photos, slides, old maps, district plans and so on. Because Brukselbinnenstebuiten has always been a socially engaged organisation, these images have not been made or selected from a tourist viewpoint: the main aim has been to create a visual record of the changing city, and sometimes also to draw attention to disappearing heritage and other problems of urban development, such as the dilapidation caused by building promoters in the Leopold Quarter in the 1980s. Some of the images are very rare historic documents. This image bank, the 'Brukselbeeldenbank', is a unique collection that can be accessed in many different ways by both experts and interested amateurs. Since 2019, more than 10,000 old slides and photos have been identified, scanned and digitally stored, classified by district.

The Bruksel Library contains some 2,000 books and publications about Brussels and urban themes, mainly but not exclusively in Dutch. You can search the library digitally via the BRIO database. Under 'Selectie', choose 'Brukselbinnenstebuiten'. You can consult the publications at the Bruksel office, but not borrow them. Call or email us to make an appointment, during office hours on weekdays.

Brukselbinnenstebuiten (Bruksel) is a non-profit organisation. It receives subsidies from the Flemish Community and from the Flemish Community Commission (VGC). The tour guide organisation was founded in 1971, inspired by community work and the struggle to improve living conditions in the city. Bruksel guides steer clear of trivia and talk about Brussels with passion. They love their city and are keen to share that feeling with you.


BRUKSELBINNENSTEBUITEN
Hopstraat 47 (bus 1)
1000 Brussels
+003222183878
'An incredibly inspired speaker, with great expertise and strikingly beautiful use of language (imagery, careful and nuanced choice of words). We gained so much from being guided by such an expert with an obvious heart for the city.'
'Our request was made right at the last minute, but everything went very smoothly! That flexibility and accessibility is greatly appreciated.'
'Really fascinating and enriching, including for people who live or have lived in Brussels themselves. We heard a lot of new things. From now on, none of us will walk through any city the same way :-).'

On the content of our guided tours